A late spring cruise aboard a new Dragonfly 28 took the author and his family on an adventure in and around Denmark's 'South Sea'  (published fall 2017, Mulithulls Quarterly)
There are some destinations that sailors gravitate towards again and again: the Caribbean, the Med, and other bodies of water linked by their warm temperatures and steady breezes. Then there are others, sometimes at higher latitudes, that reward the efforts of those who make the journey by yielding picturesque cruising grounds, uncrowded harbors, and interesting sailing conditions. Our recent journey to the Baltic Sea, with my parents Steve and Sandy Parks and my brother Ian, where we cruised the Danish waters off the southern and western coasts of the island of Fyn, provided all three of the latter features in spades.
Quorning Boats, the builder of the Dragonfly line of trimarans, makes its home outside the small city of Fredericia, a two-and-a half-hour drive west of Copenhagen. Quorning maintains a couple different Dragonflys for use by those considering making a purchase, and graciously provided us a 28 Touring for a week's cruise in early June.
Before making the drive, however, we spent a couple days exploring Copenhagen and the surrounding area. Copenhagen is a city any sailor should visit: it has a vibrant waterfront and a warren of little canals to explore. We even stumbled upon the Open 60 Hugo Boss, which was in town for sponsor rides. The city's Christiana neighborhood, which contains the university, a large food market, and myriad waterfront bars converted from commercial use, should not be missed.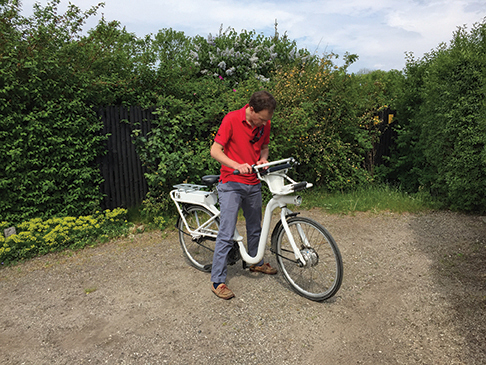 After our time in Copenhagen, and a brief stop to "Hamlet's castle" at Helsingør, we drove through the rural Danish countryside to Fredericia to pick up the boat. There we uncovered a theme that would play out throughout the course of our journey; Denmark is quite sleepy outside of Copenhagen! After some searching, we uncovered the one restaurant serving dinner past 7pm, and were treated to the sight of a local high school marching band practicing in the nearly entirely empty city streets.
The next morning, we arrived at Quorning, where we received a factory tour and had the opportunity for a sit-down with Jens Quorning, the second-generation President of Dragonfly. After a brief walk-through of the boat and its systems and a test sail, we provisioned at the nearby market (principally with the Danish-brewed Tuborg), and set off for a short shakedown to Assens, a town located on Fyn about 20 miles to the south and east of Quorning's docks.
Assens was our first opportunity to learn the practice of cruising in Denmark. It could not be easier! The harbors are generally small, and protected by man-made breakwaters. Accordingly, there are no moorings and generally no places to anchor. Every harbor has docks that are available for transient yachts. You simply find an open space and tie up for the evening. If there is no space, you continue on to the next harbor, which is never more than a couple miles away. In our early-season cruise, we always had the pick of nearly any spot in the harbor. Once made fast, you find the harbor office, where you pay at a vending machine for dockage, power, and access to the heads and showers. Prices varied some from harbor to harbor, but averaged about $30 per night.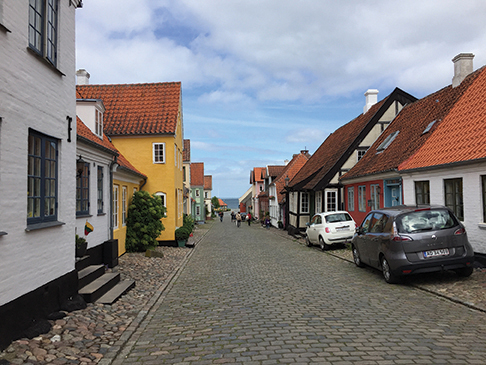 Assens proved even sleepier than Federicia. After some searching, we were able to find a hamburger, and turned in early, with a plan to head for the island of Aero in the morning. We awoke to 20-to-30 knot winds blowing out of the east. The boat had felt very solid on our shakedown the day before, so we decided to simply tuck a reef in the main and jib and set off on a reach. The sail was great fun, with speeds consistently in the mid-teens, and the boat felt planted. We passed by the northernmost harbor on Aero, Soby, and arrived at Aeroskobing, in the middle of the island, in a very short amount of time.
The island of Aerø, and Ærøskøbing in particular, is a popular vacation destination for Danes. It allegedly has the most sunshine in Denmark. Its reputation is well deserved. I enjoyed it so much that for the rest of our trip my family kept searching for job listings on the island (maybe they were just trying to eliminate a crewmate). We also had probably the best meal of our trip at a small restaurant we stumbled onto in Ærøskøbing. Looking around, we noticed that many tables were filled with young couples, and learned that the island is also a popular wedding destination.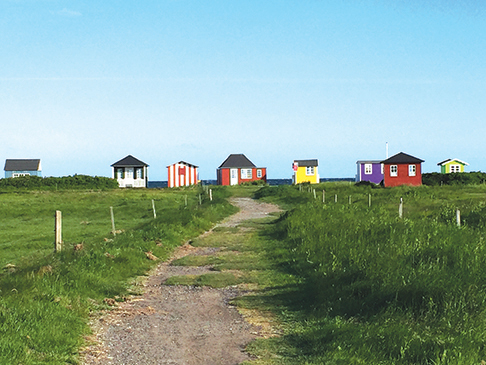 Aerø has breathtaking natural beauty. From our dock, it was an easy run through several pastures, which were well-marked with defined hiking paths, past a row of brightly-painted beach cottages, and to a headland to watch the waves smash into the island. The island, which has three main towns, has a convenient bus system which we used to explore Søby to the north and Marstal to the south. Marstal also has the island's doctor, who is happy to see you at a moment's notice, which proved useful when one of our crew came down with an eye infection. Showing the friendliness we encountered throughout the country, one shopkeeper telephoned the doctor, then phoned us a taxi, and we were in and out of both the doctor's office and pharmacy within an hour.
The next morning dawned even sunnier than the day before, and we decided to head for Svendborg, a small city on the southern tip of Fyn, and just a short sail northwest of Ærøskøbing. First, I wanted to top off the water tank, which proved difficult when we couldn't find a hose. It takes a long while to fill even a small tank when your only tool is a small coffee carafe.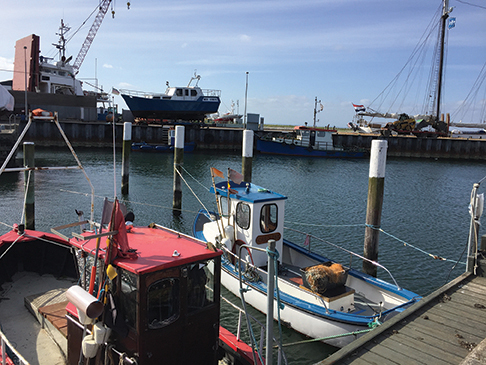 Properly watered, we set off for Svendborg in 20 knots of wind. We tucked a reef in the main and blast reached across, hitting a new high mark of 18.4 knots of boat speed. We learned that the channels are marked for a reason in this area, where you might have five meters of water in the channel, while directly outside the depth quickly drops to two meters or less. Trying not to become distracted by the gorgeous homes lining the channel between Fyn and the island of Tåsinge, we threaded our way into Svendborg, where we encountered the largest town we would visit on our trip.
Svendborg's yacht harbor is directly downtown, which has the benefit of delivering you to the heart of the action, and the detriment of having close proximity to several waterfront bars. We were highly entertained by a concert of a cover band, whose entire repertoire appeared to consist of AC-DC songs. As we were in Svendborg for the start of a holiday weekend, the harbor was more crowded than any other we had seen, with some boats med-mooring off the bulkhead. Fortunately for our 20-foot beam, we took advantage of the trimaran's speed to arrive early and found a slip alongside.
We had noticed several schooners sailing between the islands throughout our trip, and in Svendborg we were treated to an impressive display as one of them nosed into a tight turning basin to come alongside. Classics were everywhere in Svendborg; there is one pier that is restricted for use by wooden boats, and the city hosts an annual classic yacht regatta, in addition to hosting Denmark's yachting museum. Walking the docks was a treat, and an opportunity to inspect several classic folkboats and other old timers.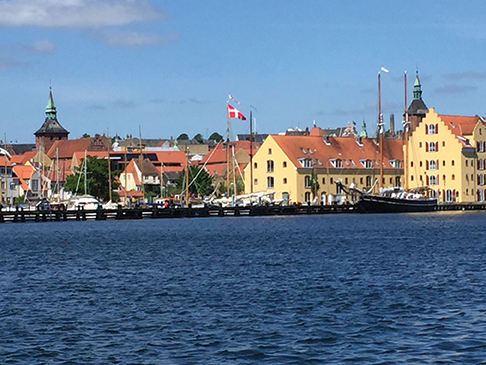 From Svendborg it was on to Rudkøbing, south from Svendborg on the island of Langeland. We had sunny skies and light breezes, but were able to ghost along at seven knots. My brother and I decided to take advantage of the hiking trails we had seen at every rural locale and set off for what was to be a brief run. We were distracted by running through the rolling countryside and somehow ended up off the trail, bush wacking through a thicket of vines, and returned to the boat a couple of hours later than we had intended with scraped legs and to the great amusement of our folks. Fortunately, we lucked upon a summer festival that was taking place that evening, and were able to nurse our wounds sitting at a sidewalk bar in the heart of town, watching the festivities.
After an evening in Rudkøbing, we set off for Faaborg, another classic town on Fyn. We ended up in the first of two harbors in town and tied up to a large bulkhead near several schooners. We learned that there are about 50 such schooners that ply the waters around Fyn during the summer months, taking people on circumnavigations of the island. We also learned that there are 38 harbors within 20 miles of Faaborg, leaving plenty of options for cruisers. That evening a rain squall rolled through, providing an opportunity to test the Dragonfly's bimini, which kept the cockpit (and its occupants) dry.
From Faaborg it was back to the Dragonfly base to return their boat. It was a special week cruising waters that none of us had previously sailed, and we were all enthralled with the Danish coast's natural beauty, the interesting cruising grounds, and the friendliness of everyone we encountered, who were very patient in explaining Danish pronunciations to American ears. Those who may be interested in making the jump to a multihull could do much worse than to learn how to sail a Dragonfly while cruising its home waters!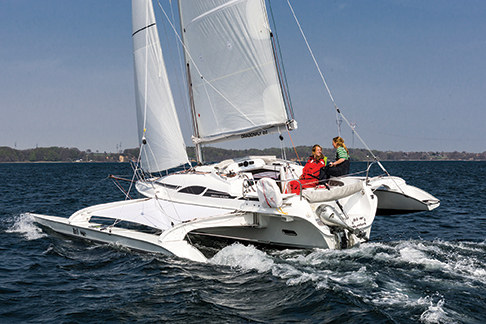 Josh Parks is an attorney who works and lives in Providence, RI, and sails out of Newport.